Saving energy by using the Vision Control modules
The Vision Control is an intelligent storage computer that regulates temperature, relative humidity and CO2 level by controlling fans, shutters, heaters and cooling units. Intelligent Vision Control modules are available to minimise energy consumption, ensure minimal weight loss and optimise germination inhibition.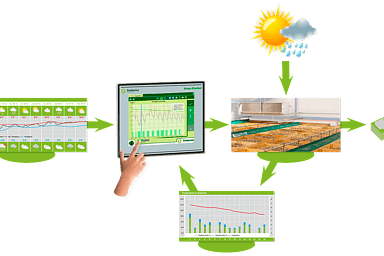 Energy management
With the 'Energy Management' module, the Vision Control offers considerable savings on energy costs. By setting the maximum allowed energy consumption and the priorities for the different storage cells, storage is automatically switched on or off while other energy-consuming components (e.g. a sorting line) are in operation. This results in the lowest storage losses and the highest energy savings. A unique concept for arable farms.
Weather in Control
Weather in Control is an optimisation module that, based on a 10-day weather forecast, makes intelligent decisions about the ventilation and cooling strategy to be followed. The advantage of the module is to maintain a more accurate desired storage temperature for the product with less weight loss and lower energy costs. The system's profit is made by efficiently using the available moments when cold outside air is available. Weather in Control adjusts the climate computer settings so that, depending on the situation (periods with either lower or higher temperatures ahead), external ventilation or mechanical cooling is started earlier or later. With Weather in Control, the time for external ventilation is shorter and the product temperature is more stable, which helps to optimise germination inhibition.