Sorting
Tolsma-Grisnich grading machines can be optimally geared to the needs of the product.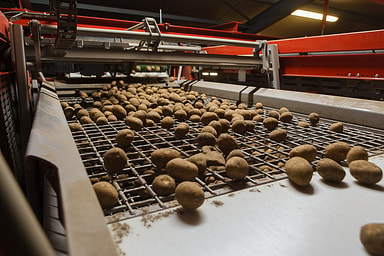 Which results in a high grading capacity as well as exceptionally accurate grading for size. They can be adjusted to various speeds and times with the simple controls of the grading machine and sieve cleaner. The MV 9 and MV 13 models are particularly suitable for processing both ware and seed potatoes. The MR 18 model was specifically designed for the processing industry.
Capacity and accuracy
The unique, independently driven grading decks (MV 13 and MR 18) can be placed in either a level or sloping position (MV 9 and MV 13, factory settings). A level grading deck ensures maximum precision, but if the grading deck is placed in a sloping position, forward speed of the product is increased so that grading capacity also increases. Every grading deck has its own product-friendly sieve cleaner.


Ease of operation and reliability
Thanks to the very rugged main frame and sieve decks indirectly driven by toothed belts, the grading machines are exceptionally quiet and stable while running. The rotation of the maintenance-free cams can easily be adjusted per grading deck. The protected moving parts are easily accessible for primary maintenance.