Condenser drying of onions on Goeree-Overflakkee
At Goeree-Overflakkee, Tolsma-Grisnich has realised a storage facility for the drying and storing of various types of onions. The hall provides room for a total of 1,500 boxes spread across six compartments. The storage facility is filled several times during the season, which requires a system with sufficient drying capacity to cope with continuous drying, irrespective of weather conditions and at low energy costs.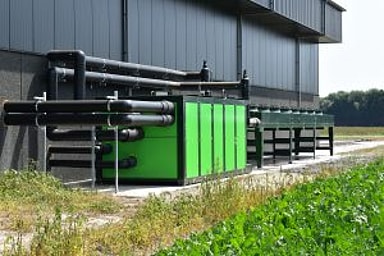 Tolsma-Grisnich recommended the installation of a heat pump system, a condenser drying system that makes it possible to also use outside air provided this is favourable in terms of temperature and air humidity. Drying capacity can be doubled as a result, as compared to conventional condenser drying systems that usually only condition the air within the cell itself.
A unique combination
The system at Goeree-Overflakkee combines the power of a traditional ventilation system employing ventilation by outside air and air heaters with the benefits of a condenser drying system. The intelligent Vision Control storage computer constantly measures and calculates the ideal drying conditions for each cell, and switches to the heating of outside air when external conditions are favourable. If the conditions outside are not suitable, the system will automatically switch to condenser drying, so that optimal drying capacity is achieved at all times.
Low energy costs
The Tolsma GCU-I heat pump (470 Kw) achieves a drying capacity ranging from 112 kg/h under poor conditions to drying up to 470 kg/h under favourable outside-air conditions. Based on an average energy tariff for major users, the energy costs for drying amount to approximately €200 per day. After the harvesting season, the system can also be deployed as a standard cooling facility for long-term onion storage. Here too the heat pump operates efficiently, while also offering the facility of post-drying. Vision Control continuously monitors the temperature and relative humidity in the cells; extra drying is applied whenever necessary during storage to maintain a consistent RH rate of 80 to 85 % at cell temperatures up to approx. 0.5 °C.
Efficient defrosting system
To keep the air coolers frost-free during the cooling process, the choice was made to install an effective hot-water defrosting system. As compared to a conventional defrosting system, the air coolers can be defrosted up to four times faster. Furthermore, this consumes hardly any extra energy thanks to the use of the residual heat released during the cooling of the adjacent storage cells. This also means that less heat enters the cell, which is beneficial for the number of cooling hours required.